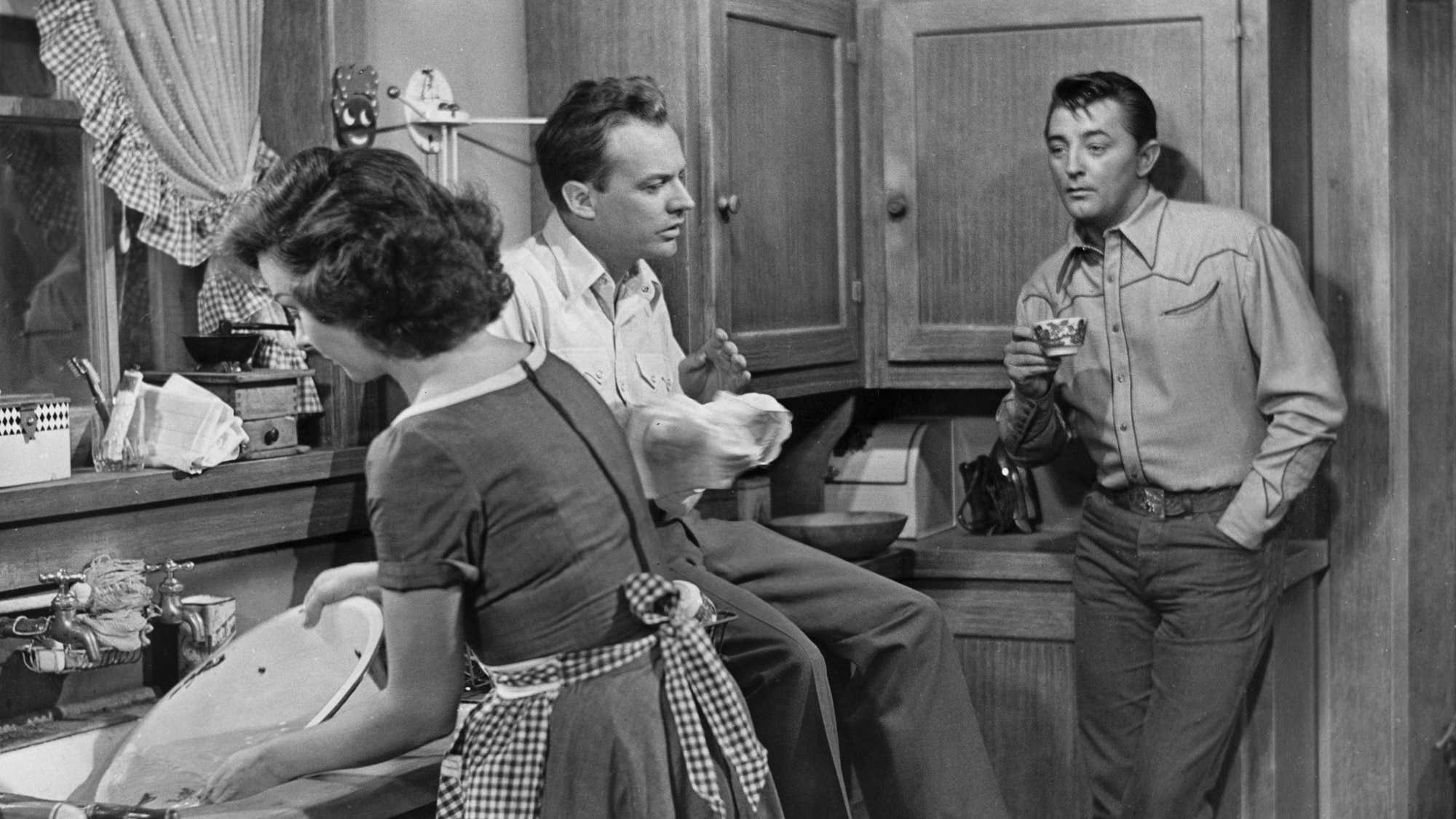 At first glance, a story about that particularly down home item of Americana – the rodeo – seems an unlikely project for a sensibility such as Nicholas Ray's. However, The Lusty Men, with its concentration on individual codes of behaviour, well expresses what Ray was about, and explores some of his favourite preoccupations: love, loss, redemption, self-sacrifice and a critique of the male psyche. The bragging, competitive machismo of the rodeo may seem to belong more to the world of Howard Hawks' films, but Ray is able to make it his own.
Robert Mitchum plays Jeff McCloud, an aging rodeo star whose championship-winning days are long behind him. On a nostalgic trip to his old family farmstead, he meets Wes (Arthur Kennedy) an ambitious aspirant to rodeo fame married to Louise (Susan Hayward). Wes is attracted to the quick money he sees as the natural outcome of rodeo riding, but Louise prioritises the security of home life and fears for Wes' safety. Despite her misgivings, the more experienced man and the beginner team up to fulfil Wes' dream. In a twist, Jeff begins to fall in love with Louise, and his need to prove himself to her ultimately puts him in jeopardy.
As usual, Ray works marvels with his cast, gleaning a poignant, subtly graceful performance from Mitchum who displays stoicism, yearning, male camaraderie, romantic hope and world-weariness with effortless style. Ray softens the sometimes brassy edge of Susan Hayward, emphasising her core of concerned, loving loyalty while allowing her to revel in her trailer trash origins. Kennedy's role is less nuanced but he presents well the brash veneer that covers Wes' need for approval. Filling out the cast are a parcel of colourful hangers-on who offer both homespun wisdom and salutary lessons in the risks of rodeo life.
During the film's shooting, Ray worked in an improvisatory way without a finished screenplay, and he photographed actual rodeos in a documentary style which blends surprisingly well with the quieter scenes of personal interaction. The Lusty Men is above all lyrical in its evocation of the fugitive grace that even the constrained lives of lonely people can elicit. This mood is set emphatically by the famous and beautiful early shot in which Mitchum limps away after a riding mishap amid gusts of trash, leaves and newspapers blowing through an empty arena, with sharp, unforgiving sunlight cutting in from the side. In Ray's universe, we are all essentially solitary figures. — Brian McDonnell