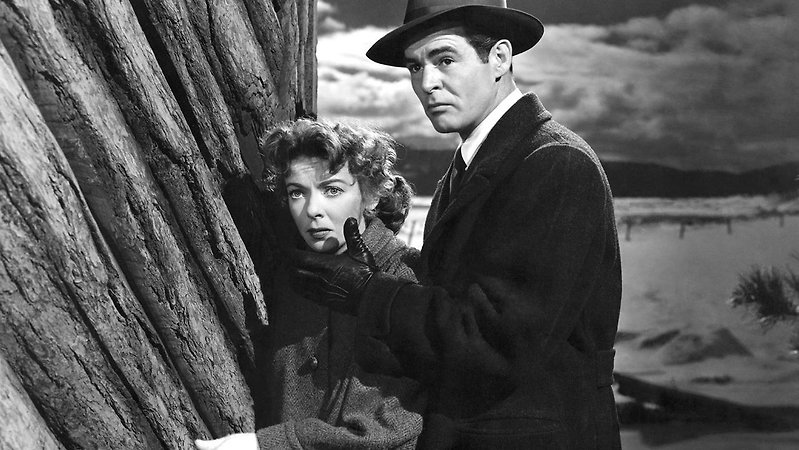 Ray's brilliant On Dangerous Ground is very much a film of two unlike halves. The first a noirish portrayal of a bustling city where a brutal cop chases baddies along darkened streets. The second is a fable of a man's redemption set in a snowy mountainous region virtually devoid of people. What unites the two sections is noir veteran Robert Ryan (he starred in 15 classic noirs) as Jim Wilson, the violent cop who finds his humanity by befriending a blind woman during his pursuit of her brother. This theme of blindness also binds the two sections of the film – Wilson's moral blindness as a perpetrator of wrathful vengeance contrasts with the literal blindness of Mary (Ida Lupino), who is able to break through Wilson's barrier of contempt for others.
The early segments of the story carry us along a rollercoaster ride as we follow detective Wilson and his less excitable ream tooling around the night-time city streets in a Single-Spinner rounding up sleazy miscreants, beating up masochistic suspects, interrogating scrofulous informants, and sidestepping seductive teenagers ('Buy me a drink, mister, I'm all dry'). These frenetic episodes, accompanied by Bernard Herrmann's shrill music, are punctuated by quieter scenes in Wilson's dingy rented studio where the alienated cop leaves his dirty dishes in the hand basin where he just washed off the grime of his job.
To get him out of circulation after a particularly savage beating, Wilson's boss accuses him of being a 'gangster with a badge' and sends the burnt-out case up-country to help the locals solve the brutal murder of a young girl. Once there, Wilson and the girls angry father (a character analogue for Wilson) pursue a suspect through the snowbound fields, then encounter his protective sister living in an isolated cabin.
Like many blind people in movies, Mary can 'see' more clearly than the sighted people around her and her calm, moral presence works positively on Jim. She offers him the possibility of redemption. Intuiting the normally truculent Wilson's inner goodness and longing for love, she asks in a husky voice if he is lonely and what it is like to be a cop. He says he trusts no one; Mary says she has to trust everyone. While resisting depicting any facile change in Jim, Ray had a happy ending pressed on him by the studio and the film's stars, both of whom are operating here at the peak of their powers. — Brian McDonnell