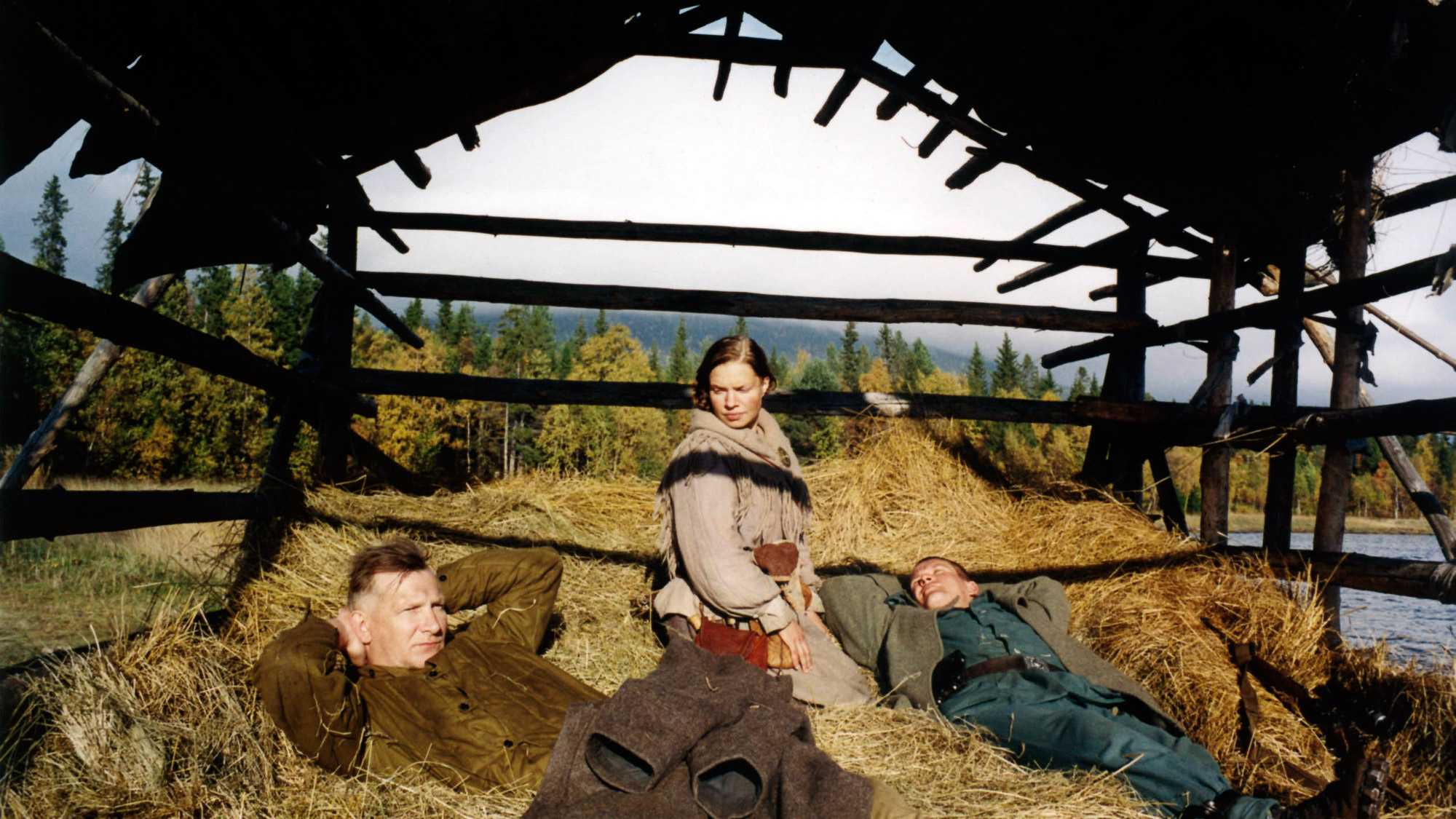 In this shrewd, often hilarious comedy of international rivalry and incomprehension the three principal characters – two men and a woman – speak entirely different languages, but they're all subtitled in English so that we in the audience understand much more about each of them than they ever understand about each other. (Has there ever been another film in which the omniscient subtitler is so integral to the effect?)
In the spectacular wilds of Lapland in late 1944, war is winding down. Veiko, a hulking young Finn, has been dressed in a German uniform and chained to a rock by the retreating Germans. They are counting on the advancing Russians to finish him off. The film, which culminates in a Babel of chatter, begins in silence and suspense as we watch his resourceful and painstaking escape. Nearby, Ivan, a surly Russian captain being transported to a court-martial for anti-Soviet remarks, is left for dead after the accidental detonation of a Russian bomb.
Both are rescued by Anni, a solitary Lapp reindeer farmer who hasn't had a man for four years. The Finn, who sees his escape from the Germans' fatal trap as a rebirth, is determined not to be drawn back into the war. The intense Russian, failing to grasp the Veiko's uniform is the only thing about him that's is fascist, has no such qualms. Their confusion is compounded by Anni's determination to deal with the more fundamental matters of food, shelter and fornication. The comedy of misinterpretation is boisterous, but there is a constant threat of violence exacerbated by sexual rivalry.
Our sense of what each of them is about, particularly the two men, deepens as the film progresses. The amiable Finn is a particularly appealing character. The Russian is shaded with envy and survivalism. His better instincts aren't quite so reliable. Their hostess is admirably straightforward. Her earthiness may provide many of the film's funniest moments, but there's no mistaking Rogozhkin's appetite for the elemental vitality of the tangata whenua. There is a bold non-naturalistic sequence in which Anni wails a traditional incantation to summon the wounded Veiko back from the path to death. Counteracting her, a grim, blond boy is luring him through a formidably barren landscape. There's a graceful solemnity about this change of key into the film's final expression of the raucous power of life over the stone cold deathliness of war. — BG