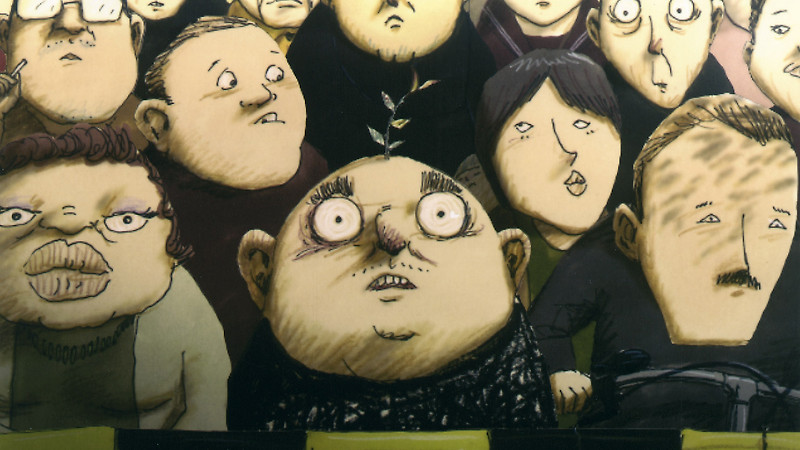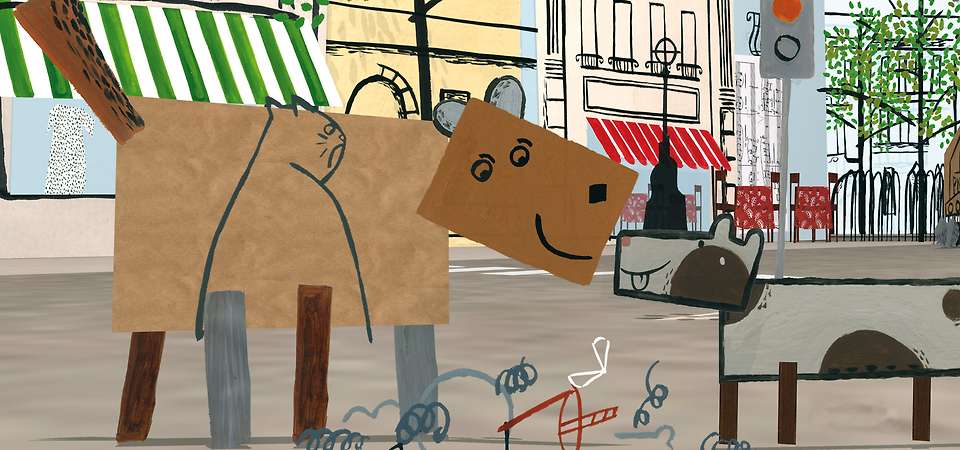 As always our programme of the year's best animated shorts encompasses a vast array of styles and attitudes. Most, though not all of the films on this programme, have a story to tell. Animation Now! has not been selected with children in mind, but older kids with a taste for animation should get a kick out of most of the work on this year's programme.
The sound of a soaring violin emanating from a neighbour's apartment, turns one man's world upside down.
A simply gorgeous retelling of one of the stories of the god Vishnu in the style of Indian street posters.
The Town of the One Handed
2002
Cooperation and good humour are required by this unique township to get through the normal tasks of a day.
A wry homage to animated filmmaking as much as a story of two little men with notebook heads who are plagued by the animator's giant hand.
At the End of a Thread
2002
Ah, beware the incredible power of the mind desperate to escape. Blessed freedom is easier for the mind's eye to conjure than for the imagination to control.
A vivid and intriguing celebration of colour drawing on the local market in Valenciennes for inspiration.
A mystic and ethereal film created by a dancer depicting 'Garba', an Indian folk dance from Gujarat, performed mainly by women for nine nights, beginning and ending with the moon.
Splatterrific claymation hospital escape thriller.
Insanity reigns as a house falls prey to a sudden invasion of squawker birds.
A sumptuous, dramatic rendition of a Goethe poem set to music by Schubert. Sand animation at its finest.
2003 Academy Award nominee. A truly bizarre tale of a man who could not bear to waste anything.
The Dog Who Was a Cat Inside
2002
An exquisitely animated film following the journeys of a creature with two very different souls.
The power of Puccini's Madame Butterfly courses through every frame of this remarkable stopmotion epic.
2003 Academy Award winner from Imageworks. The Chubb Chubbs are coming and everybody is very afraid. Hilarious mayhem the whole family can enjoy.