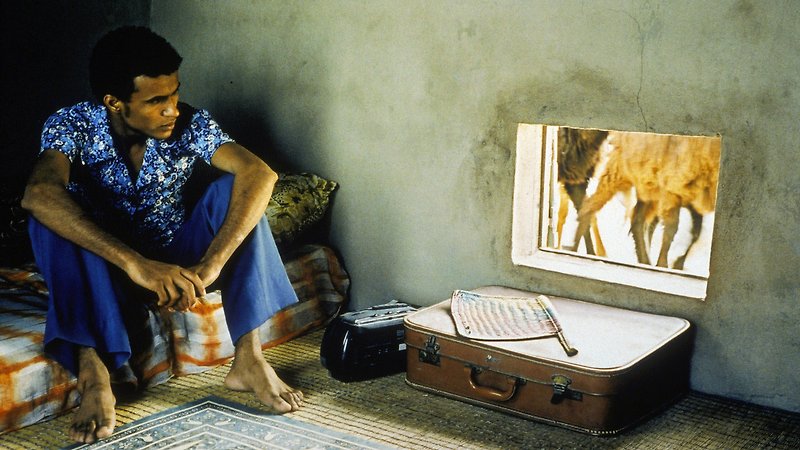 Waiting for Happiness
2002
Heremakono
"Director Abderrahmane Sissako's Waiting for Happiness suggests a world of poignant contradictions, between immobility and departure, belonging and rootlessness, tradition and modernity, local culture and outside influence. Set in a lonely Mauritanian coastal town that functions as a transit point, this is a poetic reflection on themes of exile, travel, home and displacement. While the visually exquisite drama requires considerable distillation and at times seems remote, its impressionistic observations continue to coalesce and its soulful mood lingers well after the end credits…
The setting is Nouadhibou, a wind-blown seaside village of mainly temporary housing, which most people merely pass through. This is a place where ships sail close to shore, planes fly overhead from a nearby airport and trains pass by. But despite these links to the world beyond, Sissako exposes instead a sense of solitude and inescapability, with departed people spat back up onshore by the sea, swallowed by the sand, or ceasing to exist altogether once they leave.
The outside world enters with 17-year-old Abdallah visiting his mother before leaving for Europe. Listless, unconnected and unable to speak or understand the local language, he becomes a mute observer of life in the village. Doctors see patients, a photographer takes portraits, a fabric merchant sells veils, groups of women sing, dance, drink tea and flirt with men, a Chinese immigrant serenades his sweetheart in a karaoke bar, a woman teaches traditional music and song to a young girl.
More personal stories are glimpsed such as that of a village prostitute rejected by her husband after traveling overseas to inform him of their daughter's death. An old handyman speaks sorrowfully of a friend now lost to him, who handed him an air ticket and invited him to leave Nouadhibou. The same old man battles with faulty village electricity connections, watched carefully by a young orphan and aspiring electrician who appears to gravitate toward the outside world but disappears in the arresting final shots into the desert landscape.
Underscored by songs and by the sounds of the wind and sea, the gentle drama casts a cumulative spell as its simple, beautifully composed images wash over the viewer. Rather than being overwhelmingly melancholy, the themes of solitude, limbo and isolation are delicately countered by the spirit and serenity of the villagers, played by a non-professional cast given freedom to improvise." — David Rooney, Variety