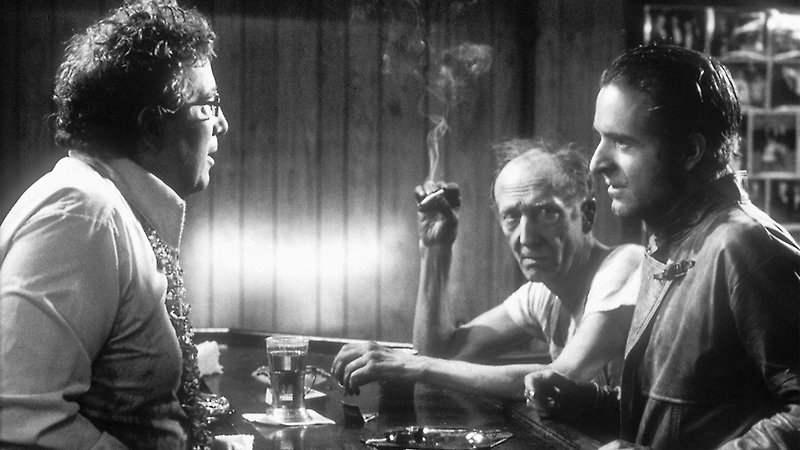 The American Astronaut
2000
"A sort of musical indie space-Western, The American Astronaut stars its writer-director, San Francisco artist Cory McAbee, as Sam, a rough-hewn pilot who travels the solar system selling and trading what comes his way. On a mission to deliver a handsome 16-year-old to man-starved Venus, Sam discovers that he's being tracked by his nemesis, the bow-tied Professor Hess who's leaving a trail of dead men in his wake. Along the way, there are production numbers: nifty, polyphonic, bar-rock-deluxe tunes, also written by McAbee, with his band, The Billy Nayer Show, as well as exuberant, arm-flailing dances and off-the-wall encounters with various lost and hard-bitten drifters of the universe.
The film is beautifully photographed by W. Mott Hupfel III, whose fuzzy, black-and-white compositions make the most of very little – sets are shabby and minimal, though stylishly so – and propose that what's unseen is as evocative as, if not more so than, the images that glow forth… The result is a sui generis, love-it-or-hate-it exercise in homegrown American surrealism." — Hazel-Dawn Dumpert, LA Weekly
"The Billy Nayer Show, with McAbee at the mic, has developed a loyal cult following over the last decade by crushing language into its funniest idioms and most memorable clichés, reassembling his memories and yours into an absurd and amusing but generally nonsensical story. Words and phrases float on a sea of ellipses; the band's buoyancy has never seemed to match Earth's gravitational pull. Which is why space seems like its most natural next frontier.
Obsessions with childhood and adolescence, an adolescence that only mutates – as opposed to matures – into adulthood, people an entire solar system. Photographed in an experimental black and white that's much more black than white, the film cleverly turns a low-budget SRO hotel room into an interplanetary spaceship and makes an outer space bar out of just a few tables and chairs. And the plot, it seems, is purely for show… I wouldn't suggest adding it up. While The American Astronaut, as sentimental and perverse as the band that built it, touches down on the deeper wounds within the male psyche, from the shame of the anal stage to the anger of unrequited love, it's best to remember you're only along for the ride. A bucking-bronco robot, it's probably the wildest ride of the year." — Susan Gerhard, San Francisco Bay Guardian