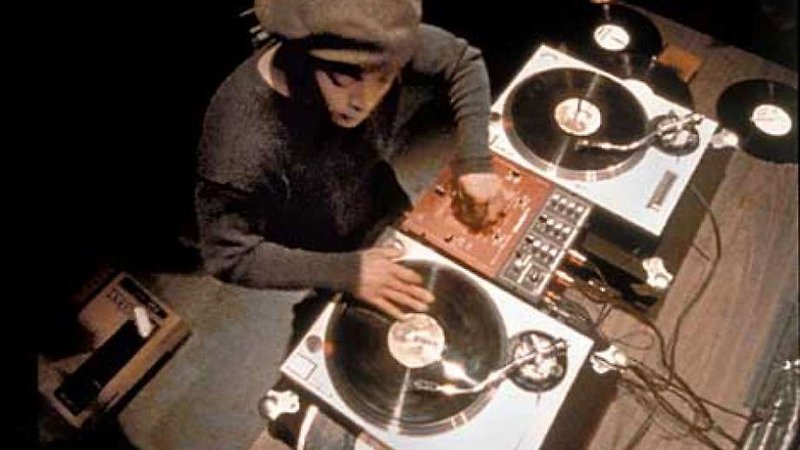 "There's a moment in Scratch, Doug Pray's new documentary, when you begin to feel the film accelerating from workman-like music journalism to something of a revelatory experience. A fuzzily warm Bay Area DJ named Qbert, founding member of the Invisibl Skratch Piklz, is trying to explain the art of DJing. 'It's like you're the instrument,' he smiles, 'and the universe is playing you.' Qbert is one of a chorus of voices that feverishly announce the dawn of the present-day Turntablist Era, one that restores the DJ to the cherished central role in hip-hop…
Scratch's tale of the resurgent mixmaster is not only an exuberant portrayal of hip-hop's self-healing, it's a compelling meditation on the future of making music in America. Focusing on underground types like Mix Master Mike (Beastie Boys, Invisibl Skratch Piklz), Rob Swift and the X-ecutioners, and DJ Babu and the Beat Junkies, Scratch is exploding with unbridled optimism and talent.
Echoing the old-school purist line, the film embraces the 'four elements' of hip-hop (DJing, MCing, graffiti writing, and break-dancing) that gained celluloid immortality in Charlie Ahearn's 1982 pseudo-doc Wild Style. Pioneers like GrandWizzard Theodore and Jazzy Jay explain the origins of the break-beat, and grainy Grammy Awards footage captures the revolutionary work of GrandMixer DXT. But his star turn on Herbie Hancock's 1984 classic, 'Rockit,' was a flash in the pan, as MCs gradually abandoned their DJ partners in pursuit of commercial success in the mid 80s.
Scratch's central narrative shows how a new generation of DJs were inspired by GrandMixer DXT. They became part of a growing scene dedicated to hip-hop's communal 'battling' aesthetic, progressing from mixing to beat-juggling, and finally, body-spinning in annual competitions like Skratchathon and the DMC US finals, both documented in the film. One sequence, featuring DJ Shadow 'digging' for beats among piles of vintage LPs in a record store basement, demonstrates hip-hop's postmodern genius for making gems out of pop detritus…
Still, Scratch's strongest moments are the live performance sequences, where hip-hop becomes an ultra-rhythmic spiritual experience, with roots in West African trance ritual and South Bronx gang solidarity. Although the film is perhaps overly weighted toward West Coast performers (the presence of the New York-based X-ecutioners is fleeting), it has a universal feel – thousands of kids might be inspired to turn in their guitars for two turntables and a mixer." — Ed Morales, Village Voice