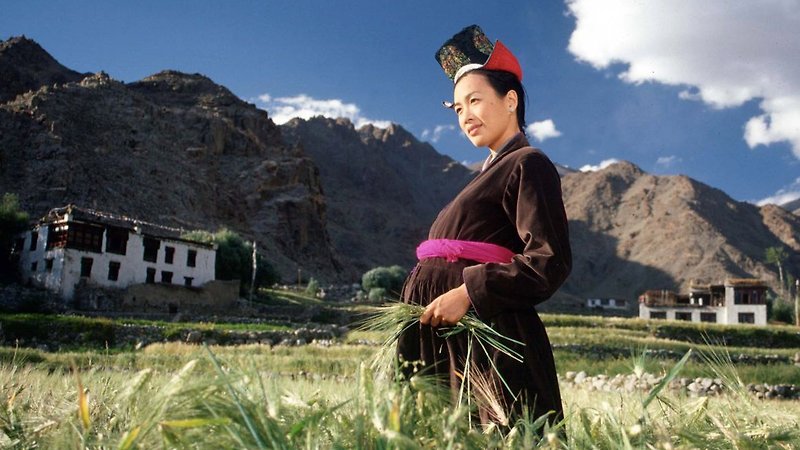 "Set in the majestic landscape of the Himalayas and shot in glorious Cinemascope, Samsara – which means 'the world we live in' – tells an epic tale of a spiritual quest. Tashi (Shawn Ku) is a brilliant young Buddhist monk who is just completing three years of solitary meditation in a remote hermitage. With long hair and beard and fingernails like talons, he is sitting in the lotus position in a deep trance. Roused by a group of monks, he is taken back to the monastery to recover his strength. As he resumes a monastic life of constant prayer, he is honoured for reaching a state of advanced enlightenment. But surprisingly, even though his life from the age of five has been devoted to spiritual matters, he finds himself experiencing a profound sexual awakening.
While performing a routine harvest blessing, he becomes irresistibly attracted to the farmer's beautiful daughter, Pema (Christy Chung). Arguing that Prince Siddartha renounced worldly existence only after experiencing it, Tashi leaves the monastery to discover the bliss of sexual union. He marries Pema who, it turns out, has spiritual wisdom that surprises and challenges him.
This film is almost indescribably beautiful. The sheer magnificence of the landscape itself is breathtaking and the film is shot and directed with exquisite attention not only to the panoramic vistas, but also to the softly shadowed details of the interiors. The wine and saffron hues of the monks' robes create a vivid colour palette that enriches the pale tones of the snow-topped mountains and sets off the stunning blues of the sky. With many scenes without dialogue, the silences are punctuated by natural sounds of wind and water, the low murmurs of the monks in prayer, the bells around the horses' necks and Tashi's faithful dog barking in the distance.
More than anything, the film reveals its spiritual beauty through a deep respect not only for the aspirations and difficulties of the quest for enlightenment but also for the profound complexities of Samsara, the world we live in." — Kay Armatage, Toronto Film Festival