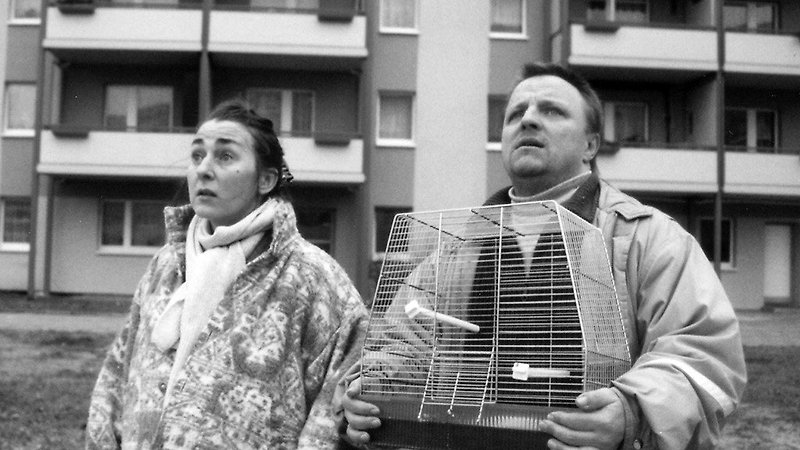 Grill Point
2002
Halbe treppe
"Grill Point has such a tight, cohesive structure and impish wit that you would never guess the entire film was improvised. With enough federal funding to ensure creative freedom and a small, dedicated cast of actors [key participants in the improvisation] German director Andreas Dresen has led this group to the promised land. This is a superb drama with comedic undertones – at once a satirical look at life in the former East Germany and a reflection on the need for people to constantly challenge the state of their lives. Some of the subtler digs at East German behavior and character types may escape foreign viewers, but the film's themes of marital infidelity and the emotional havoc caused by dead-end jobs and unsatisfied lives give Grill Point universal appeal.
The story takes place in the nondescript town of Frankfurt/Oder near the Polish border. Two couples pushing 40, social friends who spend occasional evenings together, lead lives of quiet desperation. Nothing has happened to any of them in a very long time. Uwe, a friendly teddy bear of a man, runs a hot dog stand named Halbe Treppe (Grill Point) that leaves him little time for his frustrated wife Ellen and their two kids. Similarly, early morning radio host Chris and his second wife, Katrin go through the motions of life. Their only interruption comes when Chris' daughter bangs into their flat uninvited with her noncommunicative sleepover boyfriend.
Almost out of boredom, Chris and Ellen launch an affair. It is quickly discovered. Suddenly, no one is complaining about a dull life. The shock of this affair causes each character to examine the stagnation of his or her existence. Reactions run in extremes… While never mocking the characters or the pain they undergo, the movie develops a sly sense of humor about their predicaments… Then there's the running gag that is also a soundtrack. A single musician outside Uwe's hot dog stand multiplies with each passing day until movie's end when a German group known as 17 Hippies is in full force, playing the gypsy-influenced music that creates the film's musical backdrop. At one point, Uwe is even convinced their music is coming out of a toilet bowl. It's a gag worthy of Monty Python and Jean-Luc Godard.
The film achieves an ending note of redemption, not necessarily by bringing its couples back together but by suggesting this period of adjustment and self-examination has reinvigorated each character's attack on life." — Kirk Honeycutt, Hollywood Reporter