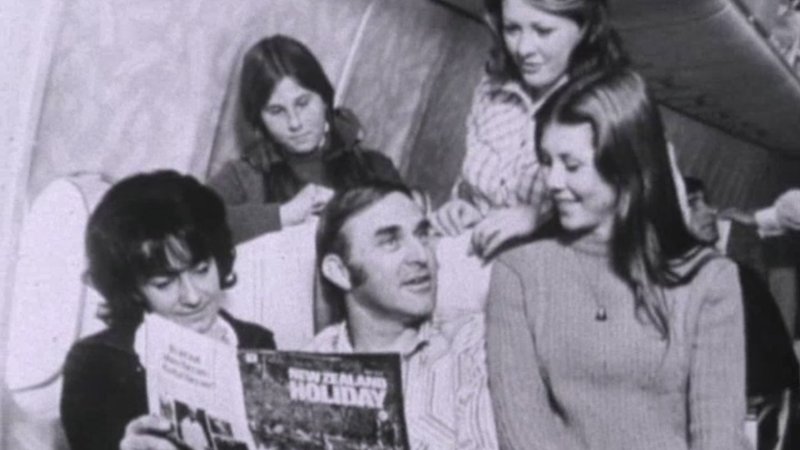 Originally this documentary presented itself as simple nostalgia. A wry look at New Zealand air hostesses over the years; fashion, attitudes, stories from different decades. With this in mind I drove from Christchurch to Auckland and took tea with a cross section of women who had been employed by any number of the early NZ airlines; TEAL, SPANZ, Air NZ and NAC… The fifty and sixty year olds, over a cup of tea, would hand me these very glamorous pictures of themselves as nubile young hosties, standing proudly in their crimpolene micro-minis, with beehive hairdos, racoon-eyed make up and false eyelashes. They looked so young and so perversely sexy. The politics of these outfits as work uniforms for women seemed totally bizarre to me…
It was written in the personnel manual that a hostess was required to visit the bathroom, to check her appearance, every ten minutes. And there was a fairly rapid turnover of employees. Pre-1974, women employed by the airline were required to leave the industry if they married, became pregnant, or had the audacity to pass their 35th birthday.
Airlines in fact behaved like bored husbands, trading in the loyal older woman for the younger, perkier model. And then I discovered something that dramatically changed the scope of the project. A small book in the library called Human Rights Commission vs Air New Zealand Ltd. A story of Sex Discrimination.
The book was a Human Rights Commission report on an Equal Opportunities Tribunal in 1987. It told the story of 17 hostesses, who after 13 years of struggling for equal rights to promotion, pay and superannuation and for some, years of sustained sexual harassment in the workplace, were seeking two million dollars in discriminatory claims against their employer. The Human Rights Commission, recognising justifiable cause for these 'aggrieved persons', took Air New Zealand to the Tribunal in 1987. But the trial revealed that the real fight was to be waged against the Union…
What I had now was quite simply a story that traced the changing status of women. It finally made sense to me, as the recipient, a woman of the next generation. I had been trying to grasp the anomalies of the 50s, 60s and 70s working environment for a New Zealand air hostess and now I could see a way to tell the stories of these women. — Brita McVeigh