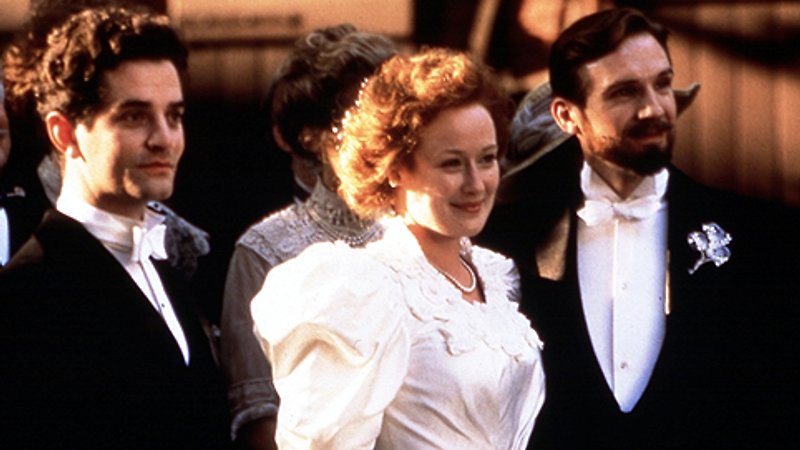 Sunshine
1999
A napfény íze
Multigenerational sagas are more comfortably the provenance of TV miniseries than of crammed feature films. But in Sunshine, the distinguished Hungarian filmmaker István Szabó (Mephisto) distills complex issues of identity into three hours of dense 20th-century family drama that, while inevitably oversimplified, is never less than engrossing.
Three generations of the Jewish Hungarian Sonnenschein family – the name means sunshine – rise and fall through the rise and fall of the Austro-Hungarian empire, Nazism, and communism. It is Szabó's most elegant touch, though, to cast one mournful-faced actor, Ralph Fiennes, as a Sonnenschein son of each era, weighing forfeitures (of family name, of religion) against personal and professional gains.
The classy cast includes James Frain, Rachel Weisz, and William Hurt. And none is classier than recent Tony Award winner Jennifer Ehle as free thinking Valerie Sonnenschein, the story's bright center. Another fine detail: when Valerie ages, she's played by the luminous Ehle's own glowing mother, Rosemary Harris — Lisa Schwarzbaum, Entertainment Weekly, 9/6/00
This sprawling period drama is a majestic summation of the stylistic and thematic concerns that have preoccupied István Szabó for the past 25 years… Having profited from sales of its herbal tonic, the Sonnenschein family has severed its rural roots to settle in 1860s Budapest. But its Jewish heritage will also be sacrificed as successive generations bid for greater acceptance. Ignatz (Fiennes), a lawyer and loyal imperialist, defies his father to marry his adoptive sister, Valerie (Ehle), while their son, Adam (Fiennes again) changes the family name to Sors and embraces Christianity so he can fence in the 1936 Berlin Olympics. Finally, having seen his father die in Auschwitz, Ivan (guess who?) becomes a Communist apparatchik, whose career is derailed by adultery and the 1956 Uprising.
Even though knowledge of Hungarian history isn't a prerequisite, this impeccably staged melodrama's richness can only be fully appreciated alongside Szabó's earlier masterpieces, Mephisto, Colonel Redl and Hanussen. Just as Klaus Maria Brandauer played a triumvirate of flawed individuals, so here does Fiennes, each character's patriarchal zeal and susceptibility to lust and power resulting in his downfall.
For all the complex intrigues, ardent couplings and divergent political creeds, the message of the film is surprisingly simple – to thine own self be true, because the state will always betray you, whether you compromise with, resist or acquiesce in its tenets — David Parkinson, Empire, 5/00