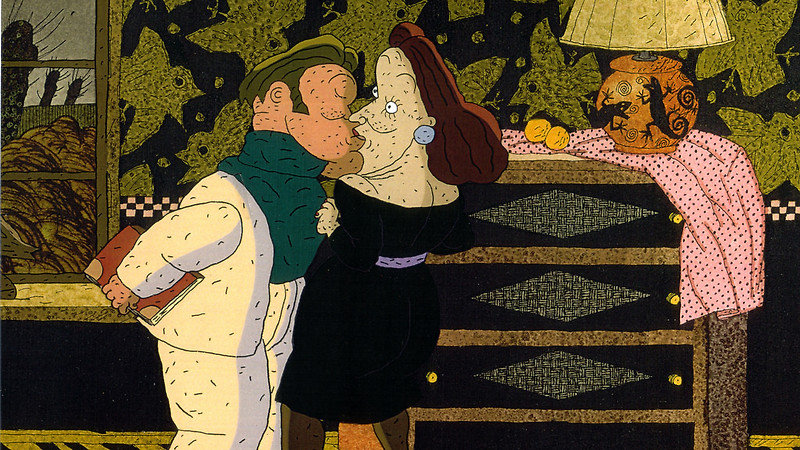 Igor Kovalyov: Four Films
In the densely bizarre animated world of Ukranian Igor Kovalyov, it is the 'normal' and the everyday which are harbringers of repression. For Kovalyov two things are certain: domestic simplicity is a haven for sinister, incapacitating forces and a film should generate more questions than it answers. Add to this mix an undeniable sense of barely restrained sexual repression, a visual grammar all his own, an unrivalled ability to create and balance a complex array of visual and narrative tensions, and an apparently bottomless well of visual symbolism.
Kovalyov was born in Kiev in 1954, grew up watching the animated films of Chitruk and fell under the spell of the great Estonian animator Priit Parn. He began animating at 18 at the acclaimed Kiev Studio (when he was turned down for art school 'beacuse he could not draw'), and created his first fully individual, independent film in 1990. This astonishing film, Hen, His Wife generated such excitement that he was invited to shift to the USA and join the Klasky Csupo team (animators of the orginal Simpsons episodes) where he went to work on projects such as Duckman, Aaaahh! Real Monsters and Rugrats while creating one of the inimitable and studied bodies of animated film art of any living animator.
Kovalyov's story reflects the massive cultural changes wrought on what was the Soviet Union. However he consistently and strenuously denies the various – and perhaps too obvious – political contexts that most Western critics read into his films. He instead asks that audiences look at them through a much more layered and complex set of lenses.
Audiences will see all of these aspects in this very special retrospective screening – one of the first in the world to include The Flying Nansen. Elements of Kovalyov's homeland and his earliest influences are there. And fans of the Klasky Csupo projects that Kovalyov has played a major role in, may also recognise a character design here or a humour quirk there. But ultimately this is an extremely personal, unique body of work that probably has no other venue for screening than a film festival. Come armed with this knowledge, an open mind and a desire to experience the work of a true animation master. — MT
A routinely troubled household is shattered when a masked stranger arrives without warning and alerts the husband to the fact his wife is actually a hen.
The spirit of film noir creeps through this tale, laying bare the deceitful relationship between a master and his servants.
Past and present merge and then re-fracture down different fault lines when a man visits a woman living in a house with a gardener, two kissing Chinese chess players and a child who will do anything to communicate with the man.
The North Pole provides an environment begging to be explored. But once trapped in that environment, exploration and rescue are very much in the eye of the beholder.